Enhancing long-term health and wellbeing among people living with HIV. Launch of HIV Outcomes Policy Asks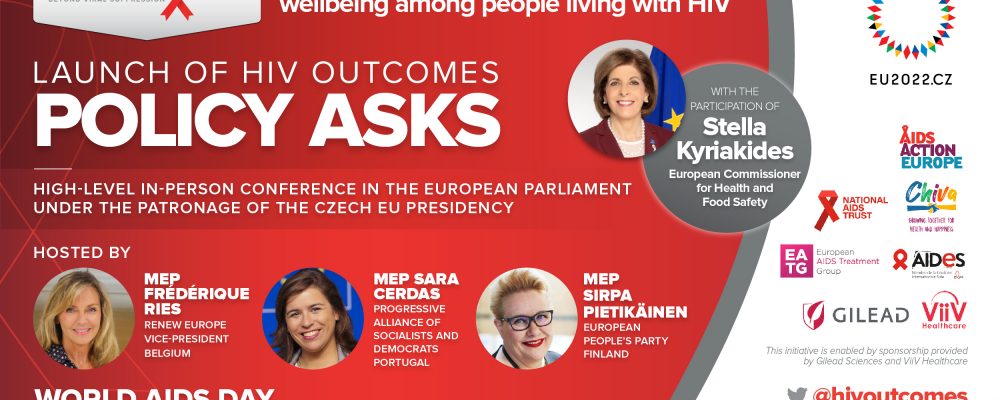 Event Details
Date / Time
01 December at 10.30am to 01 December at 12.30am
Venue
Rue Wiertz 60 / Wiertzstraat 60 - 1047 Brussels (Room SPAAK 7C050)
Map
Contact
secretariat@hivoutcomes.eu
Enhancing long-term health and wellbeing among people living with HIV
Launch of HIV Outcomes Policy Asks
Hosted under the auspices of the Czech EU Presidency
World AIDS Day 1 December 2022 | 10:30-12:30 CET | High-level conference (European Parliament – Room SPAAK 7C050)
High-level conference with the participation of:
Dr Vytenis Andriukaitis, 

HIV Outcomes Ambassador and WHO Special Envoy for Europe.

Dr Anastasia Pharris, Principal Expert for Infectious Diseases and group leader on STIs, blood- borne viruses and TB, European Centre for Disease Prevention and Control (ECDC).

Chair, UK.

House of Lords Member and All Party Parliamentary Group HIV and AIDS Co-
Dr Anca Streinu Cercel, PhD Senior Lecturer at Carol Davila Medicine and Pharmacy University, Clinician at National Institute for Communicable Diseases "Prof Dr Matei Bals", Romania.
Prof Giovanni Guaraldi, Infectious diseases Associate Professor at the University of Modena and Reggio Emilia, Italy.
Prof Jane Anderson

, 

HIV Outcomes Co-Chair & Consultant Physician at Homerton 

Healthcare NHS Foundation Trust, UK.

HIV Outcomes Co-Chair & Head of Health Systems Research 

Group ISGlobal at Hospital Clinic, University of Barcelona, Spain.

Group Member & EATG Quality of Life Programme Chair.
Stéphan Vernhes, HIV Outcomes Steering Group Member & Coordinator European Platform AIDES.
Moderated by Nicola Bedlington (Special Advisor and former Secretary General of the European Patients' Forum).
Please find here the agenda for the event.
The HIV Outcomes initiative is organising a meeting on World AIDS Day 2022 to raise awareness of measures to improve wellbeing for people living with HIV. It will also see the launch of the HIV Outcomes Policy Asks and Recommendations, the result of a year-long collaboration between over 60 experts and organisations with the ambition to guide policy actions at EU and Member State level.
HIV is a long-term condition and thanks to the widespread availability of antiretroviral therapy, life expectancy among people living with HIV is approaching that of the general population. Yet this does not always mean years spent in good health. People living with HIV are at higher risk of developing mental health conditions and continue to experience stigma and discrimination within health systems.
[Registrations are now closed]
In case you registered, follow the instructions sent by email on how to access the European Parliament.
In case you already have an access badge, you do not need to be registered to attend the event.
In case you did not register, you can still follow the event on our Twitter, LinkedIn and Youtube.
Please feel free to share this within your organisation and network.