Focus Group Discussion with UNAIDS: Health and wellbeing of people living with HIV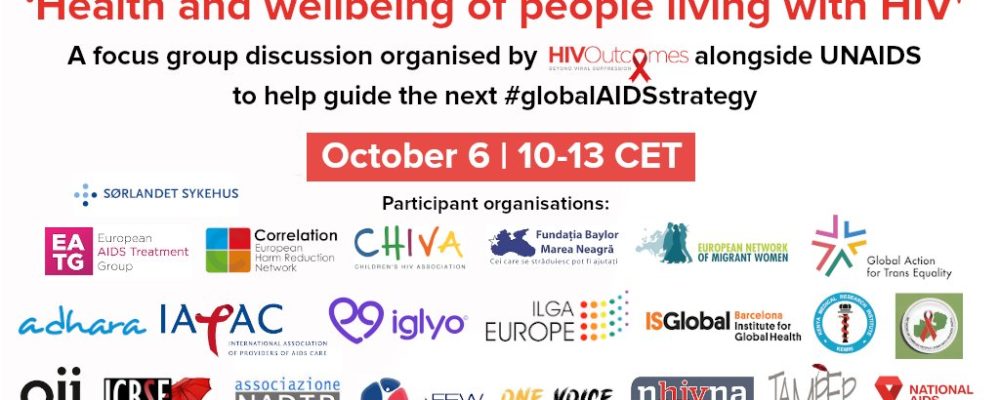 Event Details
Date / Time
06 October at 10.00am to 06 October at 1.00pm
Venue
Virtual
Map
Event Report
With only 10 years left to achieve the UN Sustainable Development Goal of ending the AIDS epidemic by 2030, the HIV response needs to undergo a paradigm shift. This is the main outcome of a Focus Group Discussion organised with UNAIDS that has gathered over 20 organisations active in the fight against HIV and representing key populations in Europe and beyond.  
We need to formalise a commitment to look beyond viral suppression and bio-medical interventions and look at the broader quality of life and health outcomes of people living with HIV. This means expanding our focus to the management of co-morbidities as well as to the social and psychological repercussions of HIV on people and various communities.  
The new UNAIDS Global AIDS Strategy beyond 2020 is the opportunity we were waiting for to make these changes happen. The Focus Group Discussion hosted by HIV Outcomes has identified six recommendations for action to be considered in the new strategy:  
Formalise the 

commitment to prioritising quality of life, multi morbidity and discrimination by calling for the establishment of specific metrics, targets and methods. 

 

Take forward this commitment on an equal basis to the 90-90-90 Treatment Target. 

 

Encourage policy makers to develop an 

integrated, patient-centred, rights-based, multidisciplinary and long-term approach to HIV care

. 

 

Determine which metrics and tools are best suitable to measure health-related quality of life

 

in a standardised way, while improving monitoring by increasing reliance on community- gathered data. 

 

Empower the HIV communities to participate 

in decision-making processes by improving government 

engagement with key populations 

(

ensuring that community organisations are well represented when involving non-governmental actors

, e.g. sex workers, migrants, LGBTI communities) 

 

Promote human rights by removing all social and legal barriers to access HIV services that result from stigma and discrimination 

in healthcare systems and beyond (e.g. punitive laws criminalising risk behaviours such as sex wok and drug use) and improving social acceptance of HIV overall.