Launch event of HIV Outcomes Romania's Policy Recommendations on Improving the Quality of Life of people living with HIV
Event Details
Date / Time
14 September at 5.00pm to 14 September at 7.30pm
Venue
Parlamentul Romaniei, intrarea C1, Sala Nicolae Iorga, Romanian Parliament, entry C1, Nicolae Iorga Hall
Map
Romanian version below
Recommendations emanated from scientific research on 1050 people living with HIV and were developed by HIV Outcomes Romania, in partnership with the HIV care network.
The event is co-organised by HIV Outcomes Romania in collaboration with the National Institute for Communicable Diseases "Prof.Dr Matei Bals" and the National Society for Infectious Diseases and HIV/AIDS.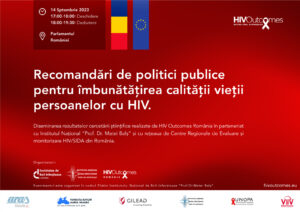 Propunerile de politici sunt rezultat al concluziilor studiului științific realizat prin intervievarea a  1050 de persoane care trăiesc cu HIV, realizat de HIV Outcomes România în parteneriat cu Institutul Național de Boli Infecțioase Prof Dr Matei Balș și cu rețeaua de Centre Regionale de Evaluare și Monitorizare a HIV/SIDA.
Evenimentul va fi co-organizat de HIV Outcomes România în colaborare cu Institutul Național pentru Boli Transmisibile " Prof.Dr Matei Bals " și Societatea Națională pentru Boli Infecțioase și HIV / SIDA.