Webinar on The Lancet HIV Series: HIV Outcomes Beyond Viral Suppression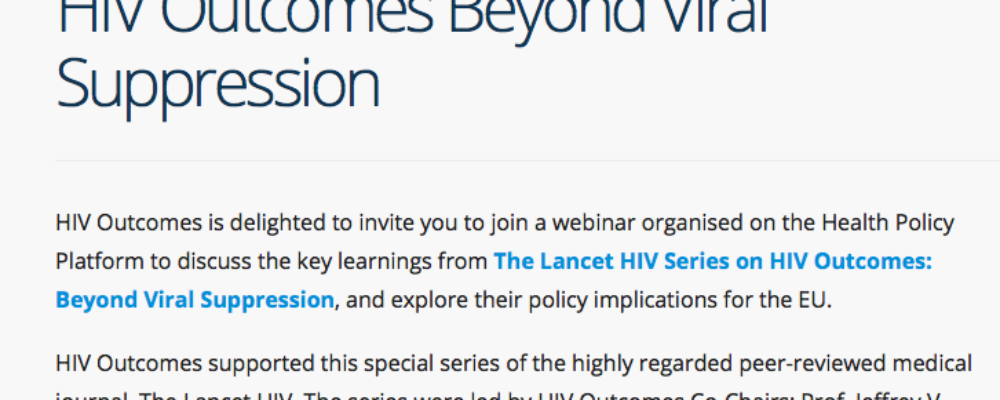 Event Details
Date / Time
15 June at 2.00pm to 4.00pm
Venue
Virtual
Map
Event Report
The Lancet HIV Series on HIV Outcomes: Beyond Viral Suppression
In the era of modern antiretroviral therapy people living with HIV can expect to live a normal lifespan. However substantial barriers to accessing non-HIV related care still exist and impact the wellbeing of this population. Current targets for the HIV response focus on testing, treatment and viral suppression. However, many factors come into play to determine the health-related quality of life of people living with HIV. The Series put the spotlight on person-centred HIV care, tackling stigma and reorienting services for a 'beyond viral suppression' paradigm shift.
'The Lancet HIV series on HIV Outcomes: Beyond Viral Suppression' were led by HIV Outcomes Co-Chairs Prof. Jeffrey V Lazarus and Prof. Jane Anderson. The series argue that, with HIV becoming a chronic disease, health systems are largely unprepared to meet the needs of growing numbers of ageing people living with HIV.
Despite living longer lives, the overall quality of life of people living with HIV does not match that of the rest of the population. People living with HIV still face significant stigma and discrimination, and are burdened by comorbidities and a higher rate of mental health issues.
The Webinar
On 15 June, 2020 we organised a webinar on the European Commission Health Policy Platform to discuss the key learnings from 'The Lancet HIV series on HIV Outcomes: Beyond Viral Suppression', and explore possible solutions to address the emerging challenges:
Health system integration to promote a holistic approach to HIV care.
HIV-related discrimination reduction within healthcare systems and among the general population.
The extension of the global UNAIDS 90-90-90 targets to include a "fourth 90" to track progress on health-related quality of care.

New roles for civil society and the involvement of people with HIV in the development of patient reported outcomes and of stigma reduction strategies.