Delivering Good Mental Health for People Living with HIV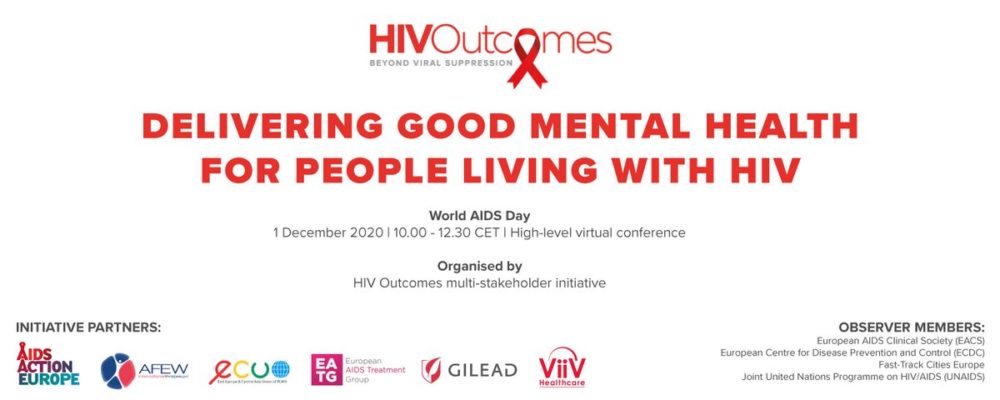 Event Details
Date / Time
01 December at 10.00am to 01 December at 1.00pm
Venue
Virtual
Map
Event Report
Integrating mental health services into HIV care is essential to improving the overall well-being of people living with HIV 
People living with HIV are more likely than average to develop mental health issues, but this is not yet fully reflected in HIV services, policies or practices. Stigma, discrimination and social isolation can add to the burden of anxiety and depression facing the HIV community.  
However, integrating psychosocial supports into hospital and community-based care remains a major challenge across Europe and beyond. Clear reimbursement and referral pathways, along with better use of digital health tools and data insights, can help to ensure services meet the needs of the HIV community.  
These were among the recurring themes at a high-level online conference convened by HIV Outcomes to mark World AIDS Day 2020. The event focused on mental health – a topic in line with the wider goal of shifting the focus of HIV policy beyond viral suppression.  
Participants included the European Commissioner for Health and Food Safety Stella Kyriakides, the WHO Europe Director Dr Hans Kluge, the Special Adviser to Executive Director UNAIDS Vinay P. Saldanha, and a representative of the German EU Presidency Ortwin Schulte, along with HIV experts and civil society representatives. It was co-hosted by a cross-party group of MEPs: Frédérique Ries (Renew Europe, Belgium), Dr Cristian Buşoi(European People's Party, Romania), Sara Cerdas (Socialists & Democrats, Portugal) and Tilly Metz (Greens/European Free Alliance, Luxembourg).   
No health without mental health  
With life expectancy for people living with HIV similar to that of the wider population, long-term health and wellbeing are now coming to the fore. Mental health and physical health are intertwined, making psychological services an integral part of efforts to improve quality of life. Services need to catch up if they are to meet the needs of their users. 
Healthcare professionals should be better trained to detect and treat depression and anxiety, addressing the 'double stigma' some people living with HIV and mental health disorders may face. It is also essential that services themselves do not perpetuate discrimination or stigma: the health system should make mental health better rather than worse, it was stressed. 
Several speakers noted that access to services varies significantly across Europe. There can also be differences within countries, depending on reimbursement systems, the availability of expertise, and whether there is a clear patient pathway for referral to specialists in mental health. Better coordination of care is a key element of providing holistic services and ensuring that the needs of people living with HIV are met. This can be a time-consuming and complex task that should be supported with funding. 
The mental health burden on people living with HIV was exacerbated during the COVID-19 crisis. Access to care was disrupted and services were postponed, potentially adding to anxiety and distress. The pandemic also exposed weaknesses in health systems, including inequalities. Participants agreed that lessons should be learned from the crisis on how to build resilient systems that leave no one behind.  
European and global policy action  
MEPs highlighted the potential of EU4Health – the EU's new €5.1 billion health programme – to support the mental health needs of people living with HIV. It will seek to put patients and citizens at its core and take a health-in-all-policies approach to wellbeing. This has significant scope to advance a holistic approach to improving quality of life throughout the HIV community. Some participants called for a dedicated EU strategy to tackle HIV and mental health, in addition to EU4Health and research funding through Horizon Europe.  
Looking at Europe more broadly, mental health is a priority of the European Programme of Work for 2025, set out by the WHO. The WHO's Regional Office for Europe has also established a Mental Health Coalition which will seek to reform mental health services and fight stigma. Its vision of integrated care would ensure that more people living with HIV have access to specialist psychological care.  
At global level, UNAIDS has drafted a new Global AIDS Strategy which it hopes will be finalised in 2021. It makes explicit reference to the mental health needs of those at risk of HIV and those living with HIV. In close consultation with stakeholders, UNAIDS has renewed its commitment to ending AIDS by 2030. However, in light of the impact of COVID-19 which has slowed progress, it was agreed that greater ambition and coordination will be required.  
The event heard from a wide variation of voices, including policymakers, clinicians and people living with HIV, yet there was strong consensus on the need to put people at the centre of HIV care. As Stella Kyriakides, European Commissioner for Health and Food Safety,put it, it is time to start treating the person, not just the disease.